Valki machan is very nice place for weekend trip spanning 1 to 2 days.Valki machan is around 140 km away from Calcuttain in Burdwan district. Valki machan is 7km from Mankar station on the Howrah-Asansol section of Eastern Railway and 13km from Paraj on Durgapur Expressway near Panagarh. Valki machan can be reached within three hours from Calcutta,Durgapur , Asansol.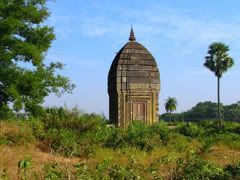 Valki machan is famous for the nearby Forest and a 25 hectares man-made lake named Jamuna dighi. Jamuna Dighi is used for pisciculture under the State Fisheries Development Corporation. Thirty-nine ponds, each spread over 22-25 bighas have been dug for the purpose.you can avail the boating facility in these lakes.
You can also visit the nearby forests. This forest was used by the ancient landlords(Zamindars) as their favorite hunting ground.
Those landlords built machans(watch towers) where they could sit and wait for the animals to come. you can see the ruins of these watchtowers. also you will be able to see many temples built by those Zamindars. These temples are great examples of Terracottal art.
How to reach Bhalki Machan?
By Air –the nearest airport to Valki machan is Calcutta airport . After after getting down at Calcutta you can hired private vehicles to reach Valki machan.
By Train –you can reach Valki machan ny trains through Howrah-Asansol section of Eastern Railway. you will have to get down at Mankar station and hire a ricksaw to reach Valki machan.
By Road - Valki machan can be reached by National Highway 2 (NH 2) by proceeding towards Durgapur, upto Galsi. On reaching Galsi turn right and the freshly tarred road leads to Mankar. On reaching Mankar, ask any local people to know the exact way to reach Bhalki Machan.
Staying options at Bhalki Machan
The Bhalki Machan resort maintained by the Aushgram Panchayat is the first option. Adequate local Bengali cuisine delicacies are all set to mesmerize you. For booking contact at – 03452-212056.
The second option is the State Fisheries Development Corporation resort at Jamunadighi at a distance of about 3 Km from Bhalki Machan. For booking, contact at – 03452-45300/9474787643. The tourist complex is inside a fish seed farm run by the State Fisheries Department. Fresh catch of fish from the pond is all set to enchant your taste buds